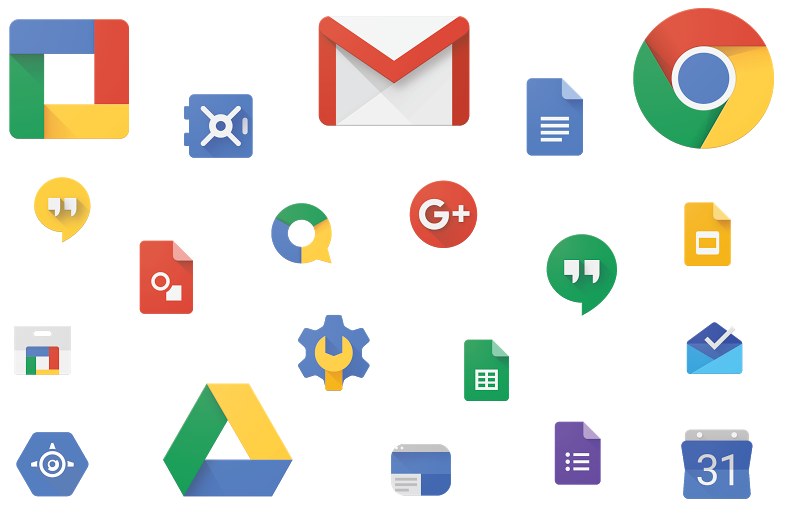 G Suite is the neat set of tools from Google, many a times we mistaken Google Drive as Docs, Sheets, Slides and so on. Google Drive is facilitating the storage and the place to access all your documents, but the proper term to it is G Suite.
To learn more about G Suite - 
https://gsuite.google.com
What are are going to discuss is why G Suite can replace your costly Customer Relationship System (CRM).
A CRM have 3 different payment modes:
License fee.

Pay and forget it, not likely you will receive anymore update. This should be the cheapest means in the long run but NO, if you are using an obsolete system to serve new customers, systematically you will lose out to your competitor. Moreover a system without maintenance is like living your live without insurance - you are all good and healthy until something struck you. There will be no data recovery or anyone liable to your precious customer and business database.

It is like you buy a car with full payment and there is no workshop able to service your car because the model has been discontinued.

License fee + periodic maintenance fee.

You buy a system or have it customised and pay a small monthly or quarterly fee. Every new upgrade will cost money as the maintenance charges is just to help you do some cleanup and backup. It is costly and you never know when the persona maintaining your system decided to quit one day.

It is like you buy a car from the dealer with a down payment of just 20%, under private agreement. You pay him a monthly instalment until the car is fully paid off, there is a very vague idea on whose responsibility is it when the car require an overhaul - whether you should pay settle it yourself or your dealer's responsibility as technically the car still under his name.



On demand (a.k.a. periodic billing).

 This kind of model usually operates fully online and is the most expensive CRM methods. The longer you use it, the more cost will clock up to your business expenses. The good thing about on demand CRM is that you will always have the latest version at little or no charge. Every user and every function will be charged extra whether or not you used it. Unlike G Suite where you have a lot of alternatives to maximise your cost - for example you need 25 email addresses but only buy a person package, all you have to do is add aliases for a particular address, make it catch all, and use the normal Gmail filter to distribute the emails accordingly.

It is like your lease a car for $30k a year but the actual depreciation is only 15k, you save on the maintenance but it doesn't make up for the huge chunk of money lost.

So G Suite have 3 different kind of payment modes too:
Free.

You heard it, free for life with 15GB storage. 15GB is a universal storage between your Gmail and all other Google products. Photos storage is free if you let Google optimise its size.



US$5 G Suite Basic.

 Business email addresses (name@yourcompany.com). Video and voice calls. Integrated online calendars. 30GB of online storage for file syncing and sharing. Online text documents, spreadsheets and slides. Easy to create project sites. Security and admin controls. 24/7 phone and email support.



US$10 G Suite Business

. 

Unlimited Storage

(or 1TB per user if fewer than 5 users). Advanced admin controls for Drive. Audit and reporting insights for Drive content and sharing. Google Vault for eDiscovery covering emails, chats, docs and files. Easily search and export to different formats. Archive all emails sent by your company. Set message retention policies. Place and enforce litigation holds on inboxes.

In case you missed it, I underlined the words - Unlimited Storage.

An average CRM system cost US$65 a month (ref: blog.capterra.com/much-crm-software-cost/) and it don't even offer half as good as what G Suite offers. Many companies get a CRM software first before analysing their business needs, so in order to maximise the usage of this CRM, their employee is force to adopt all its feature which end up losing time and productivity. The correct sequence should be to identify business needs then get the correct software. Most of the time extensive software are not necessary even for big companies.
I have identified a list of key CRM features and how can G Suite replace them points by points.
Flexible Security & Access Permissions. 

A good CRM system keeps data secure, but it also allows right users access to needed information. It should have an obvious way of allowing specific users access, without compromising data security.



G Suite

: We have never hear Google get hacked before. Other Internet giants and even the government agencies have leaks, but not Google - this is the best testimony for its security. In the recently years Google Sheets even have additional security for tab within the sheets.

There are 3 security options in G Suite namely: Public on the web (anyone is accessible), Anyone with the link (not searchable but viewable with link) and Specific People (only gmail account holder you share can access). G Suite for business under the same domain have options to only share with members of the company.

In the current context of a company, G Suite's security is more than enough to cater to their daily usage.

Another advantage about G Suite is its revision history (imagine how much storage is need for that, and Google doesn't charge you for the revision storage!). You can easily find out anyone whom have sabotaged your documents and you can recover the version up to 500 edits (major and minor both inclusive).



Tracking Partners & Product Support

. CRM software can help effectively collect information about partners and product support. This helps better manage the customer experience as it organises information about when, why, where, how, etc. the client was dissatisfied with a product or service. It also helps track whether and how the issue was addressed.



G Suite

: A lot of reporting and data entry can be done with Microsoft Excel. In fact, during the 90s businesses are so good with Excel they input every details into it and their business works greatly. Current CRM have too many features that cause lagging, error and steep learning curve.

"There is beauty in simplicity". Having a bird-eye view over an Excel sheet can tell which customers hasn't been buying recently then to search one by one or have reference link all around. There are superabundance of formulas in Excel that can pull data around to generate information that make sense; data is raw and unreadable while information is readable by human brain.

The only downside about Excel is that anytime anyone have anything to update, they have to pass the flash drive around, update it and pass it back. This process have created so much duplicate or missing entry, and became obsolete. Google Sheets consist the best of all Excel features and the best of all, it is updatable by any number of users, real time.



Billing & Invoicing Functionality

.

 

A well-equipped CRM system can also track billing and invoicing status of each customer. This helps keep financial information organised and reviews things such frequency or timeliness of payments.



G Suite

: Google started off as the best search engine and none of its competitors have taken over it so far. Searching for an invoice or data within a documents is immediate and the indexing doesn't take any space from your own computer. Until now many people still uses Excel or Word for billing purposes, again like what I have mentioned earlier - duplication and missing entry.

There are many available templates for Docs and Sheet on invoice, pro-forma invoice, quotation, purchase order, bill of material, delivery order, employee timesheet and many more. Even accounting template and all of accounting features are available with Sheets.

To track it, all you have to do is create good naming convention and organise your Drive well. The possibilities are endless, it is our mind that limit them.



Hardware monitoring

. CRM software that has hardware monitoring features can provide assistance with things such as checking the status and availability of hot spots, routers and other network equipment. It can save time in managing or troubleshooting hardware, leaving more time to deal directly with customers.



G Suite

: This is an old key feature that does not apply to G Suite at all. The only monitoring you need is the storage usage. As mentioned earlier if you have 5 or more business users, you are entitled to

unlimited storage

. Let's face it, even 30GB takes a long time to fill up unless you are video producer or graphic designer.

If your limited storage are nearing to an end, Google will always prompt you for upgrade, you can never have to worry about the storage mode. If you are a 2 man team with 60GB, do you know the files you shared with one another does not tap into their storage? It is like automatically you have extra space if you sign up for more accounts, if yours are filling up quickly, use your colleague's storage.

Google products also provide seamless synchronisation between different devices. As developers we used to be so worried about single development, multi deployment products. You can go all out to abuse Google Drive in all your different devices but you will end up have the most updated copy.



Integration with External applications

. A key feature of any CRM system is its ability to integrate with external applications. Features such document exchange or integration with an organisation's existing ERP are crucial when the goal is to collect and maintain accurate customer information.



G Suite

: The amount of add-ons that are available for G Suite are unbelievable, the community just grow so fast. There are a huge variety for both free and paid add-ons, you can almost find anything you want from there.

Thinking back, with such comprehensive feature already available at its core, what are the chances that you may need more add-ons?



Data Reporting

. While entering and organising the data to create a flexible and realistic customer database is a key function of CRM solutions, a truly effective CRM system will also help analyse the existing data. Without a data reporting component it will be hard to find customer behaviour trends or to understand which actions need to be taken to improve a customer relationship. Exporting, compiling and analysing marketing data or customer billing analysis tools are all part of effective CRM software.



G Suite

: Do you know that Sheets can produce comprehensive data analysis and advance chart plots? You can actually plot Line, Area, Column, Bar, Pie, Scatter, Map and many more other graph without any add-ons.

Other CRM systems like MYOB, SAP, Salesforce, Orcale, Zoho, Odoo, SugarCRM and many more, does require the user to learn how to generate advance report too. There are a lot of basic reports but it will not be enough. What happen if you want a report different from their template, you going to waste more money and time waiting for them to develop for you.

Sheets formula is a skills that you can bring it along to wherever you go, learning something that is universal will make yourself more valuable than learning industry based software - once you leave the industry you cannot unlearn it to free up your brain storage.



Business Process Automation

. Above all, a CRM system helps automate business processes. Although it is up to each company to decide which tasks will benefit most from automation (not every integration will be profitable for every company), the time and money saved with less data entry or better reporting will bring many benefits, including an improved relationship with each customer.



G Suite

: You may be doubtful if I am still telling your that Google Sheets can automate business process. I have attached a couple of screenshots at the bottom to show how I can assign my tasks to different members of the team, in what topics and how do I track them.

You must first identify what kind of tasks and processes are critical for your business, how do you break them down visually and display it to team members. If you cannot even breakdown or delegate tasks, chances are any CRM software you use will have your efforts go down the drain.

With Google Sheets, you can reference cross cells, tabs and even sheets. Multiple different documents can link its data into one big sheet. With such ability, you can track your customer's movement easier. If you ever come across some survey that is done using Google Docs, Sheets is where the survey stores it answer and trust me, people who used it are very happy with its result, no guarantee to the answers though